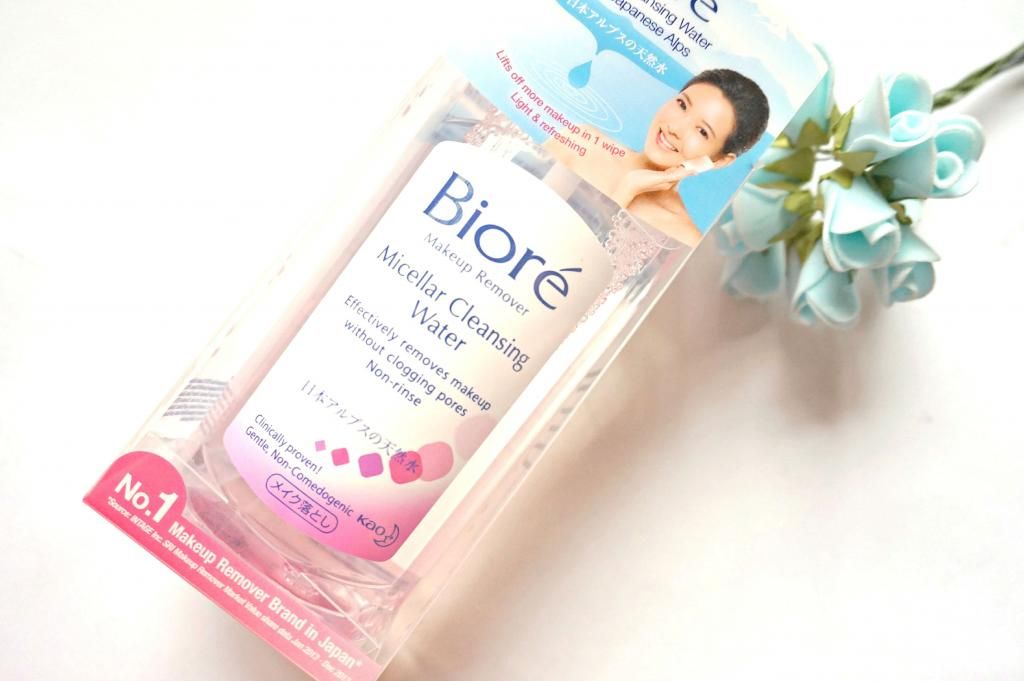 Introducing Bioré Micellar Cleansing Water – a non-rinse makeup remover! Having known that this is a water based remover has already won half of my heart, compared to those that come in oil based.
Let's see more of the product feature, it contains:
Watery Micellar Technology that effectively dissolves and lifts of all makeup including mascara and eyeliner.
Natural Mineral Water from the Northern Japanese Alps for a gentle and soothing formula.
Enriched Collagen and White Tea Extract for brighter, softer and suppler skin.
Anti-bacterial formula that helps prevent pimples and breakouts, and minimises pores for a clearer and more refined complexion.
Now, let's put the product to test.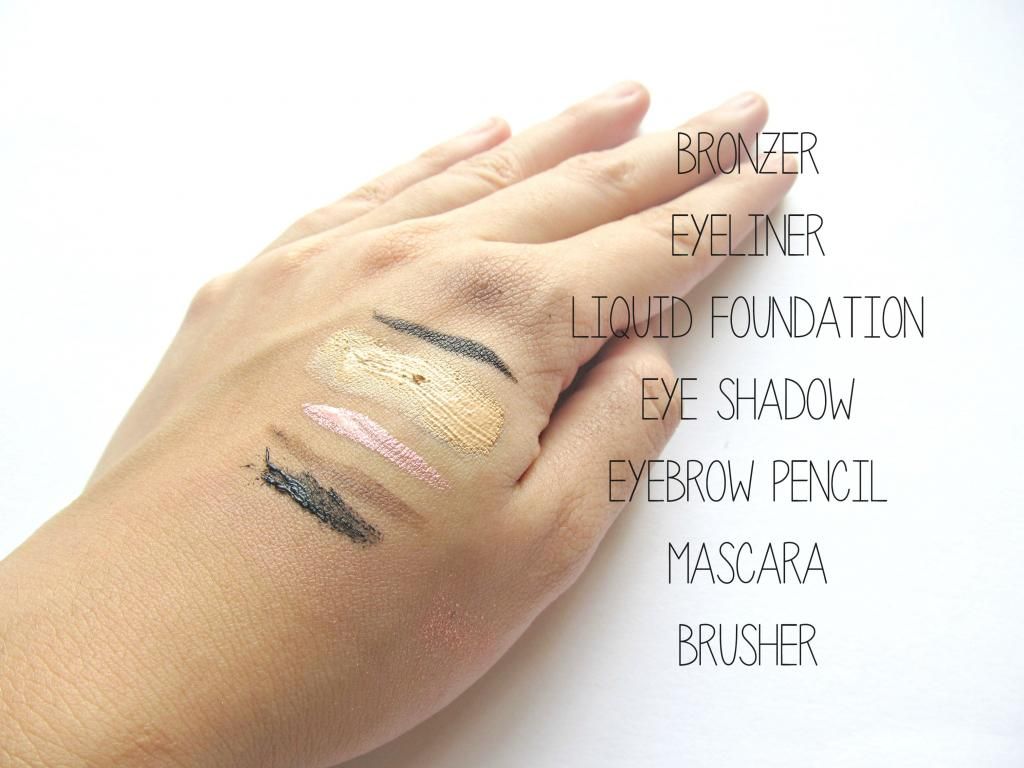 On top of my hand, I applied (Top to bottom): Bronzer, eyeliner, liquid foundation, eye shadow, eyebrow pencil, mascara, brusher. Note that I applied a little more on the foundation and mascara, because these are the 2 items that usually requires thorough cleansing before the face is completely clean, especially the mascara. Without a good remover, mascara usually get stuck between the lashes, and it is quite a pain to get them off entirely.
I used 2 pump (varies between users) of the cleansing water on the cotton pad before putting it on my skin and holding it for 5 seconds.
The result came out pretty good! It removed all the products I used, none of products leave any stain or residue, including the mascara!
Moving on, I put the test to my face (Tested using same products on the hand).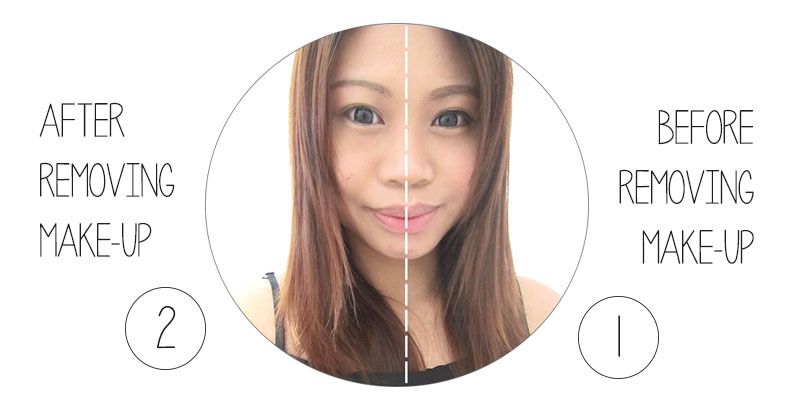 Same amazing result. The product completely removes my mascara, foundation and all the other products! Best of all, even though the product does not require rinsing, it does not leave any sticky residue on your skin. Double love.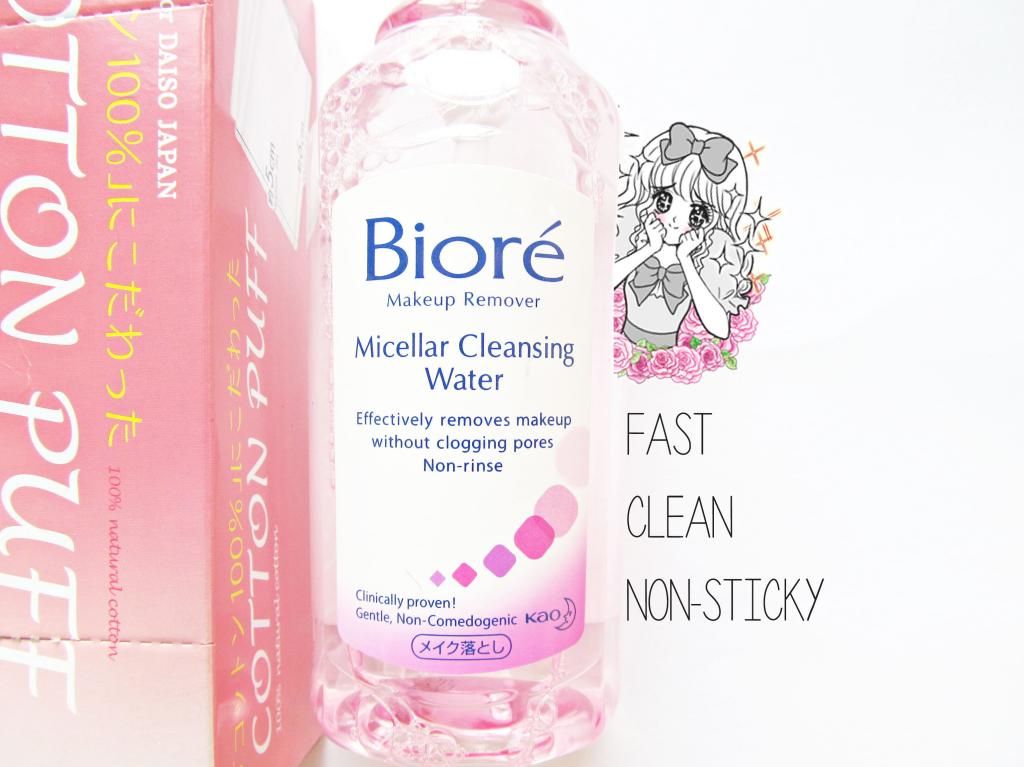 I absolutely adore non oil based product, so this product really kept me satisfied. In addition, the cleansing process is fast and thorough which saves me a lot of time. Especially on days when I'm home from work late and tired, this product helps to speed up the process. In comparison to previous makeup remover I use, Bioré Micellar Cleansing Water indeed leaves a smoother, softy touch to the skin. It does not leave your skin dry after use and is suitable for all skin types!
This product is priced at
$18.90
(300ml), and you can get it at all pharmacies, hypermarkets and supermarkets, and major departmental stores.